Wedding Venue Spotlight: William D. Evans Sternwheeler
Step aboard San Diego's only sternwheeler boat available for weddings and private events up to 200 guests, and experience 19th-century elegance along with the comfort of modern amenities. With 3,200 square feet of intricate design details and endless photo opportunities, the William D. Evans wedding venue is a truly magical setting to celebrate your next chapter with the love of your life.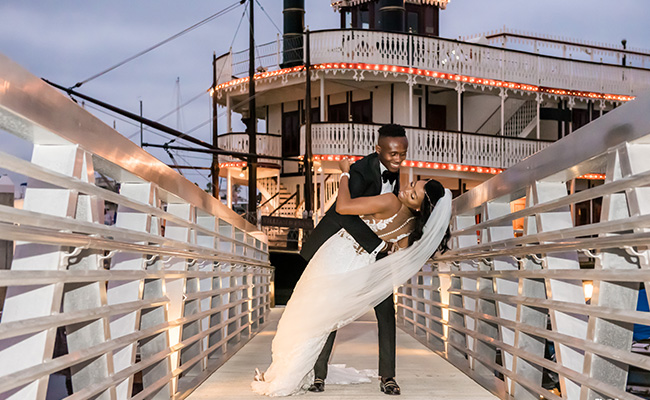 A Unique Floating Wedding Venue
If you're looking for something a little different than the traditional ballroom, look no further than the fun and timeless William D. Evans sternwheeler. The majestic boat is Bahia Resort Hotel's most popular wedding venue and its elaborate design details make a statement without the need for many additional decorations. Let your guests explore multiple levels of stunning indoor spaces (so you don't have to worry about the weather!) as well as a third level and bow to get some fresh air and enjoy the views. As one of only a few large boats available in San Diego, the venue makes a dramatic backdrop while cruising on the picturesque waters of Mission Bay.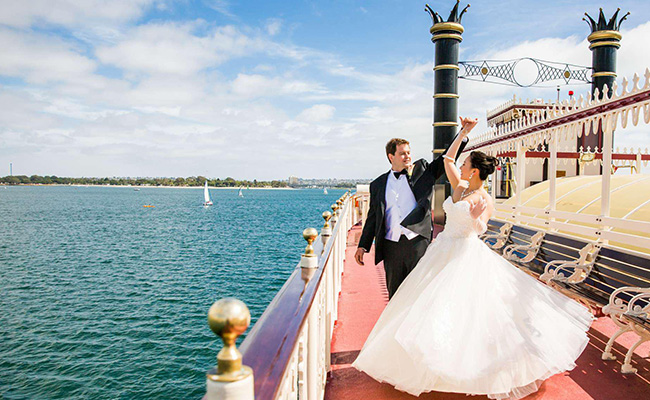 3 Levels of Fun
Each level on the William D. Evans offers exciting wedding venue options for your special day. On the first level, your guests can boogie the night away on the built-in dance floor or belly up to the sternwheeler-themed bar. Perfect for a fun cocktail hour and dancing, the romantically lit setting can also accommodate vendors such as DJs and photo booths. As guests climb to the dining area on the second level, they'll be captivated by a grand entrance from the happy couple as well as a glowing vaulted skylight featuring 50,000 pieces of European stained glass. Dine below this beautiful work of art which complements any color scheme along with your choice of either long tables or round tables. One more floor upward, your guests will discover an open-air deck to walk around and relish in stunning bay and city panoramas.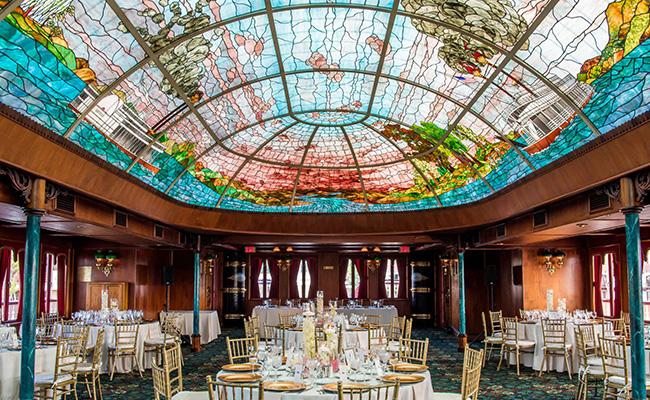 It's All in the Details
As you board onto the 100-foot-long boat and explore each level, you'll notice beautiful details that extend to every corner of the ship. Along with the stunning stained glass ceiling on the second level, the boat's ornate ambiance includes three handcrafted wooden masts, a twelve-ton paddlewheel at the stern, pressed tin ceilings, winding wooden staircases, hand-carved mahogany doors and walls, and etched glass windows. All of these vintage details offer photo opportunities at every angle (especially on the bow!), providing a quintessential San Diego nautical experience.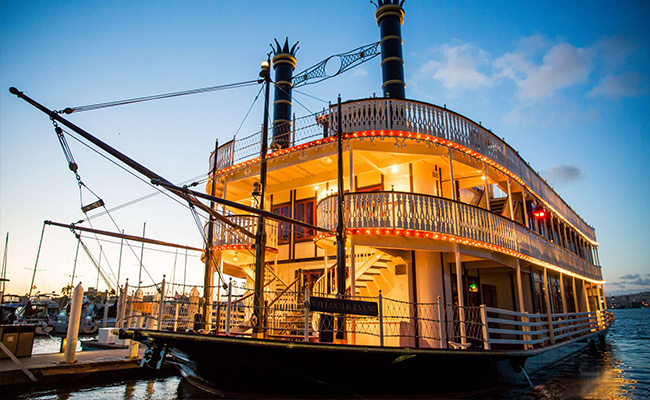 Rooted in History
The William D. Evans sternwheeler has a storied history and deep connection with its Mission Bay environment. In the early 1950s, the Evans family was awarded the first long-term lease on Mission Bay for a 14-acre parcel of waterfront property known as Bahia Point that would eventually become the Bahia Resort Hotel. More than three decades later, the sternwheeler launched in Mission Bay in 1986 and carries the namesake of William D. Evans in honor of the pioneering spirit of the Bahia Resort Hotel founder who passed away in 1984. Custom-designed and built in San Diego, the William D. Evans sternwheeler boat continues its legacy as a memorable setting exclusively for one-of-a-kind weddings and private catered events in San Diego.
To learn more or to plan your event, reach out to the dedicated team at the Bahia Resort Hotel.