Beach Wedding Essentials
If your dream wedding includes sand, water and sun, keep reading for important suggestions for planning your beautiful beach wedding. Our team of experts at the Bahia Resort Hotel are leaders in coordinating San Diego beach weddings and they have provided the tips, tricks and ideas listed below to help bring your special day to life: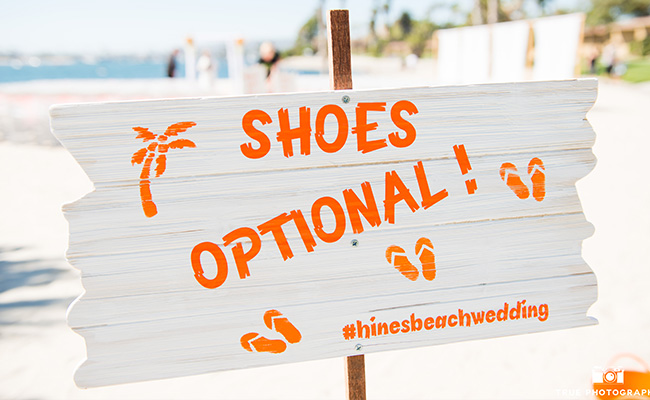 Bridal Beach Style
Dressing for your beach wedding requires some careful attire considerations.
First of all, ditch the heels! Traditional heels will sink in the sand; opt for sandals, wedges, or bare feet instead.
Beach weddings tend to be much more casual, so be sure keep that in mind when you're shopping for your wedding dress. Choose a fabric that breathes easily to help you stay cool and mitigate sweating.
Consider how your hair will react to humidity and wind. Work with your hairdresser to guarantee your chosen style has enough hairspray and is properly pinned down. The same goes for makeup — make sure it's set well!
Don't forget the SPF. Being out in the sun even for a short ceremony can take its toll on your skin. Apply sunscreen to avoid being rosy red in your reception photos afterwards.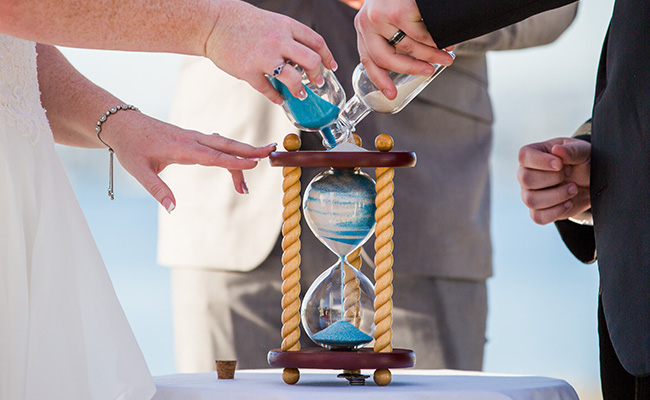 Beach Wedding Guest Attire
Clearly communicate with your guests about the attire and weather to ensure everyone is comfortable.
Include the suggested attire (typically, casual or semi-formal) on the wedding invitations so guests know what to expect well in advance.
Make sure that guests are aware that you're having a toes-in-the-sand ceremony and include an updated weather forecast on your personal wedding website.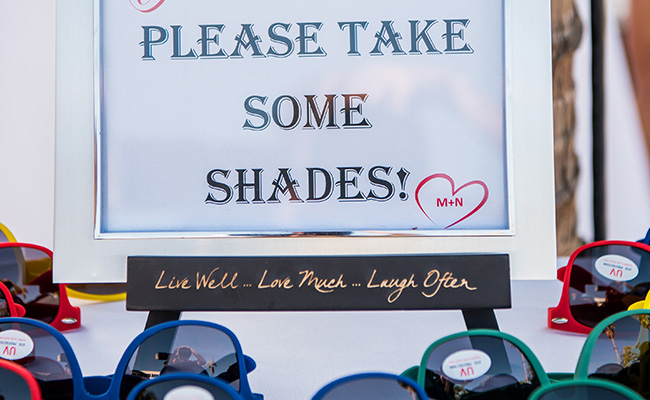 Embrace the Setting
Get creative with your beach wedding with some practical and fun ideas that play on the environment.
When guests arrive at the sand, create a shoe cubby station for guests to remove their heels or shoes. Have guests go barefoot or treat them with a basket of flip flops (these can also be customized with your wedding date and initials!) to trade out with their existing footwear. After the ceremony, supply a bucket of large paint brushes or wipes for guests to brush the sand off their feet before heading to the reception.
Have custom sunglasses available to avoid squinting during the entire ceremony. Depending on the time of year, provide parasols for sun cover during the summer or throw blankets if it's a windy beach during a cooler season.
Take cues from the natural surroundings for your décor. A beach-inspired theme can incorporate a variety of details including starfish, seashells, sand dollars, hues of blue, netting, and worn wood.
Add a meaningful sand ceremony to your celebration. During the ceremony, the happy couple pours two different colors of sand into one vase signifying the union of the two families.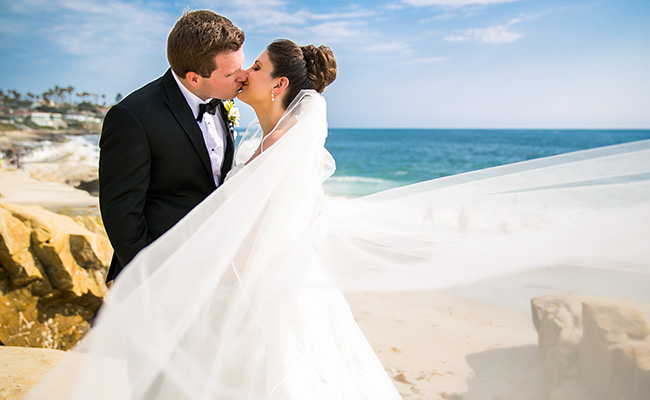 Be Prepared for the Outdoors
Handle the elements with grace with a little extra planning.
Beach environments tend to get windy at times, so have your DJ or your audio-visual contact provide a microphone and speakers for guests to hear the officiant and your vows. Consider opting for lavalier microphones which attach to your lapel; this way the standing microphone will not be in your photos.
When hiring a photographer, double check that they have shot a beach ceremony in a variety of different lightings. Sometimes amateur photographers don't have experience in shooting in harsh light, which could leave your important wedding photos blown out by the sun's backlight.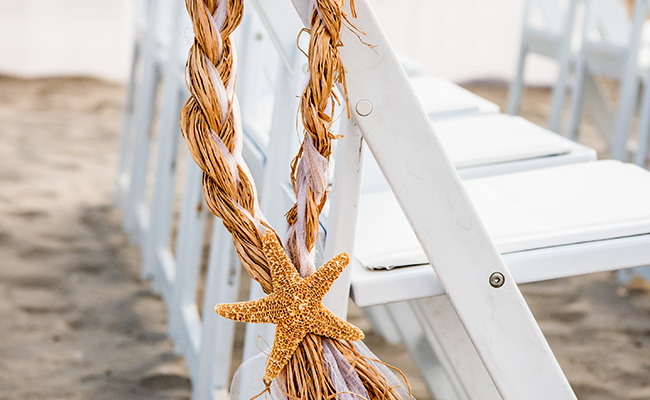 Perks of a Bahia Beach Wedding Ceremony
Discover the perfect San Diego wedding location at Bahia Resort Hotel.
The Bahia is home to a secluded beach which means that alcohol is allowed without permitting.  Guests that arrive early can enjoy Bahia's on-site Tangier Bar and can even bring their drinks over to the beach with them.
Take advantage of San Diego's weather and have your cocktail hour outside on the beach immediately after the ceremony before heading inside for the reception. This allows you and your guests to linger and enjoy the beauty of the beachside locale. 
A complimentary hotel suite, which is often used as the bridal ready room, is included in the wedding package. Your suite will be located right along the beach so you don't have to worry about transportation to and from the ceremony site.
Most beaches in San Diego require paid permitting approved through the city. Luckily, this is not necessary at the Bahia which saves an extra step as well as extra money.
Interested in having your wedding at the Bahia Resort Hotel? Reach out to our talented team.