San Diego Recipe: Avocado Crab Salad
No matter where you live, you can taste the fresh flavors of Southern California with this healthy and easy-to-make recipe from Café Bahia's Executive Chef Brett Wegrzyn. 
This Avocado Crab Salad dish is a winning combination of decadent blue crab, creamy avocado, crunchy bell pepper, crisp jicama, tangy lemon vinaigrette, and a spicy kick of tajin spice. Chef Brett loves its simplicity and appealing presentation, as well as its refreshing ingredients.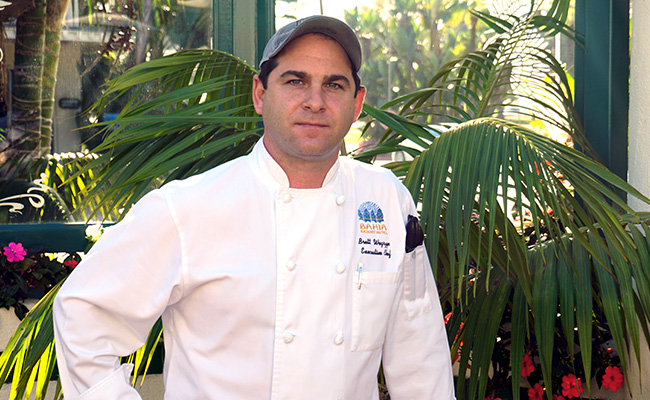 At Café Bahia, Chef Brett's food philosophy shines with his dedication to provide every diner with the freshest, highest quality ingredients presented in a different, yet familiar ways. Originally from Springfield, Massachusetts, Chef Brett began his career as a dishwasher and learned his way through the culinary world through kitchens on the shores of Cape Cod. 
Now on the West Coast, Chef Brett focuses the menu at Café Bahia on seasonal, simple flavors with a sophisticated flair. Stop by Café Bahia for one of Chef's creations or try this refreshing Avocado Crab Salad recipe at home. Ideal for a light and delicious lunch or dinner, make it your own by swapping your favorite protein or adding in other veggies!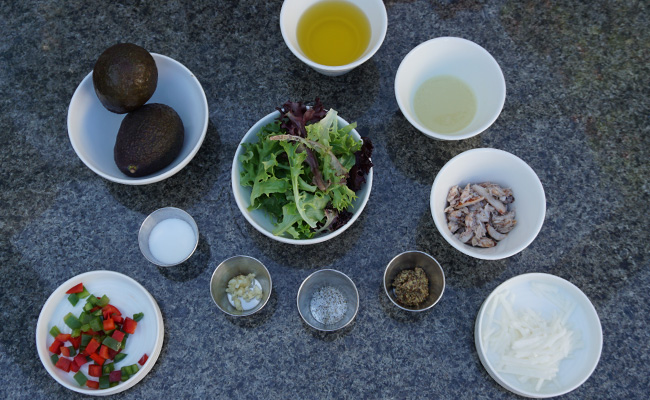 Avocado Crab Salad with Lemon Vinaigrette
Salad Ingredients:
1 Whole Avocado (cut in half)
2 oz Red Bell Pepper (diced approximately 1/4")
2 oz  Jicama (diced approximately 1/4")
1 cup Spring Mix
3 oz Blue Crab Meat
2 oz  Jicama (diced approximately 1/4")
Tajin (to taste, approximately 1 tbsp)
Dressing Ingredients:
1 Clove Fresh Garlic
1/2 Tbsp Whole Grain Mustard
1/2 Cup Fresh Lemon Juice
1/4 Cup Granulated Sugar
1 Cup Blended Oil (Olive and Canola)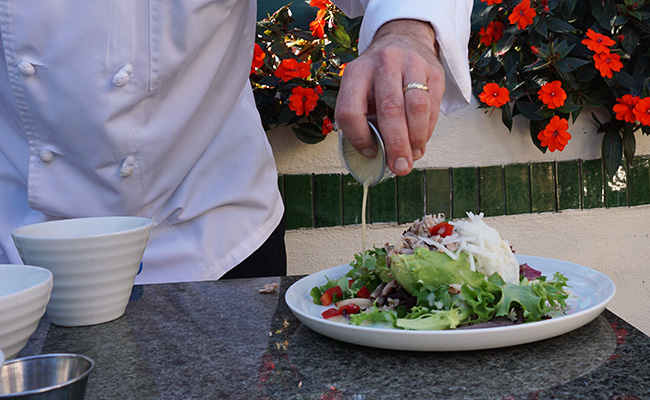 Make the Dressing
In a blender, add garlic, mustard, lemon juice, and sugar. Blend on low speed. Slowly add oil until emulsified. Taste and season. Makes approximately 3-4 servings.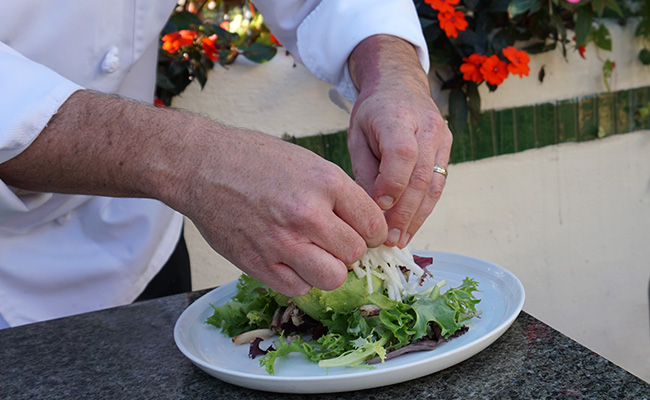 Plate It
Lay spring mix in a line across the middle of the plate, place avocado hatched (cut in half, pitted and peeled) across the top of spring mix. Garnish over the top with blue crab, red bell pepper, jicama, and drizzle with lemon vinaigrette. Dust the whole plate with a heavy dose of tajin spice. Enjoy!